I love Elsa because I am able to relate so well to her story, as I'm sure lots of people are. The story of finding who you are, of loving yourself for who you are, of being confident enough in who you are to share it with the world. These things seem so simple, but they are not. And it was so nice to see Disney show that.
Once upon a time Elsa, a little princess with magical powers, loved using her magic to play with her little sister, Anna.
But after one accident, everything changed.
Now, after years of her parents telling her she must hide her powers Elsa is terrified of her gift, and therefore of her true self. She was locked away for so long that she came to insist on shutting out the world. She repeats the words her father told her, over and over again. Living by them. Hiding in them.
And it was not just the world outside the castle walls she hid from, she shut out her family as well, including her little sister who used to be her best friend.
But once things go wrong and her powers are revealed to the world, she stops holding them back. She decides to finally be who she is, to "let go" everything she had held in for so long.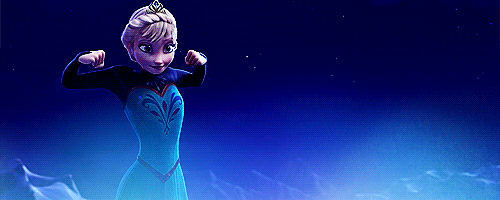 Even then however, she insists on staying locked away. Her story is not complete. She wants to be herself, but is convinced that means being alone. So she shuts her door on the world and everyone in it.
Her sister, Anna, comes to find her in hopes of bringing her home, but Elsa turns her away. She is still terrified of her powers. She wants to be herself, but is convinced that being herself puts everyone around her in danger. And it is this fear that continues to hold her back. It continues to control her.
Which brings me to the other aspect of Elsa's story that I love so much. So many of us when we are struggling with things like this feel like we need to figure it out by ourselves, like no one gets it and no one can help. Elsa had the same attitude, and she was wrong. Elsa could not fight this by herself. She is able to overcome her fears with help from her sister Anna who refused to give up on her, even when she had given up on herself.
((Elsa's lines are on top; Anna's on the bottom))
I don't want to throw in any spoilers, but Anna is instrumental in helping Elsa to realize she shouldn't be alone. It is Anna's love for her sister that finally breaks through the icy walls Elsa has built around herself. By the end, Elsa has learned not only to love herself, but to share who she is with her sister and with the world. Finally she is able to return to who she was before the accident. And finally Anna gets her sister back <3
Why do you love Elsa? Tell me in the comments!