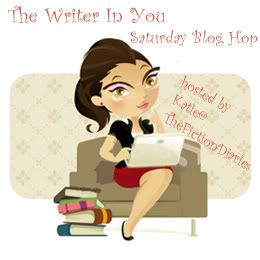 This is a blog hop for all you aspiring writers out there. It is a chance to meet other writers and share tips, writing, and experiences, all while gaining new followers for your loverly blog!
I host writing marathons on Saturdays on a Facebook group called Word Wars (today will be our first marathon as well as the first blog hop! Feel free to join us
here
anytime!). That is partially why I decided to begin The Writer in You Blog Hop; Saturdays are a great day to sit back and write. So what better way to start a Saturday writing session than with a question that makes you think about your writing? That exactly what this blog hop will be.
The Blog Hop!
Start by adding your name to the list of blogs at the bottom of this page. Then comment on this page letting me know you've joined us!
Then write a post of your own answering the question of that week and link it back to this page; we want as many people as possible to join!
Then: start hopping! Visit as many or as few blogs as you like and be sure to leave a comment on their posts letting them know you stopped by.
There are only 3 rules to this blog hop:
1. Follow me, your blog hop host! Then come back every Saturday for the week's question.
2. Be consistent: Don't forget to post your answer on Saturdays! It gives fellow WIY visitors something to comment on!
Q: Teaser Time! Post an excerpt from your current WIP:)
I hear the water before I see it, crashing towards me like cannon fire. I take a deep breath and feel the heat rising, coursing through every vein, burning in the markings on my palms. I've never felt anything like it. In all my years of Artisan training never have I felt power like what surges through me now. I release the breath, and with it, the flame.
It's a sloppy shot but it finds it mark. But I waited too long; the water was too close. Out of instinct I recoil and turn my face away from the steam; the water would have hurt less. I know my mistake the second I've made it. I raise my hands to block a second after the kick finds my jaw, knocking me to the ground. I've gotten better at ignoring pain but there's nothing like a good kick to the face to leave me seeing stars. I'm just grateful she didn't crack anything this time; there's always a silver lining if you look hard enough.
**Note** Be sure to link to your blogs homepage rather than a specific post. The link list doesn't reset every week:)