Dear Diaries,
Rapture by Lauren Kate come out yesterday and I am just oh so excited about it! I can't wait to find out how it all ends!
I am intrigued by the fact that the dress is white for this cover when it has been black for the others. Interesting..
In other news I will be headed up north for a short visit to my grandparent's this weekend. This should mean a lot of free time to write without much distraction which I desperately need. Unfortunately it may also mean I will not have my review of Rapture up until next Friday. I doubt I will have the book finished before we leave and the internet up there tends to be a bit sketchy. But I shall do my best. And I will schedule the WIY Blog Hop post ahead of time so that will go as planned and I just won't be able to read all of your lovely responses until I get home.
How many of you are just here waiting to see what Sherlock Holmes has to do with this post? Well I'll tell you.
I just finished season 2 of BBC's Sherlock. And instead of describing my reaction to the season finale I think I will allow my gifs addiction to do the talking for me:
At first I was like...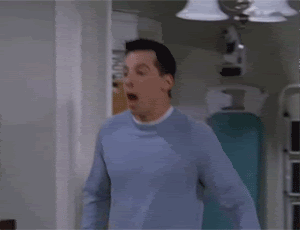 And then I was like...
Naturally followed by...
Moving on to something like the last few seconds of this...
And at last we reached...
Damnit Steven Moffat why must you be such an amazingly cruel writer? For those of you who don't know Moffat is also the lead writer of another amazing BBC show. Perhaps you've heard of it..
Nope. It's true.


Sherlock is awesome and you should watch it. Fo'sho. Just be warned that the season 2 finale will leave you just as it left me and that season 3 isn't scheduled to begin production until 2013. Why you ask? Because Moffat is probably busy with Doctor Who for one (season 7 begins in the fall! ahh!!!) and two...
Benedict Cumberbatch aka Sherlock
is a busy voice acting for...
Smaug
is busy finding the ring
and pissing Smaug off as..

I suppose filming The Hobbit is a good enough excuse to make me wait. I've been waiting far longer for this movie than a year so I'm sure I can survive without a new Sherlock episode...if I must.
I do hope you have enjoyed my parade of gifs today. I think that is everything for this week. I shall leave you with the epicness that is The Hobbit trailer. Watch it! And you'll have to let me know if I'm the only one who thinks Kili is hot....I doubt it ;)